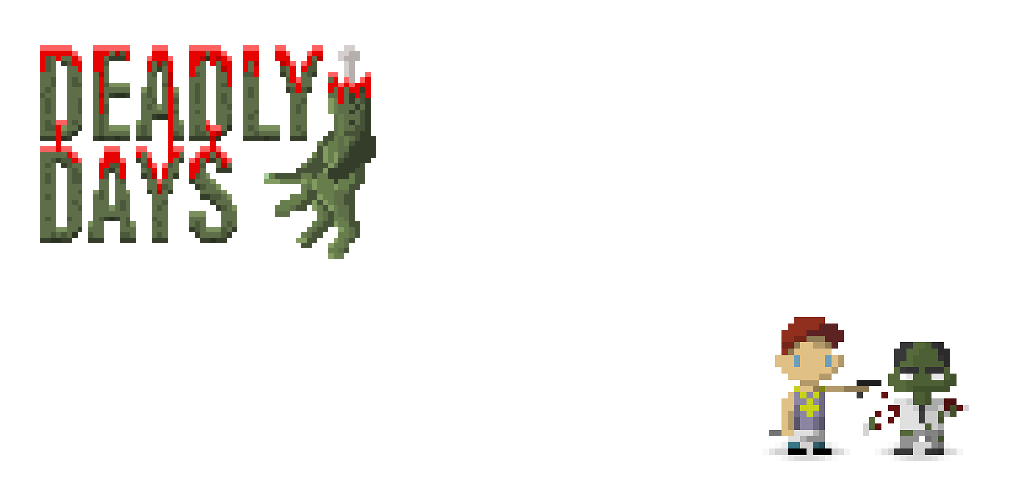 Deadly Days: The Final Shelter
Apocalypse Day 3: We Leveled UP (Update 0.9.9)
---

Hi survivors,

Over the holidays we were not idle and prepared a special update for you. Check it out!
Reworked Survivor Information
We redesigned the healthbar and ammo indicators of the survivors. It looks like this now.
You might be wondering what these new stars mean. And with this we come to our next new feature.
Survivor Level Up System
Your survivors now earn xp when they kill zombies. With enough xp they level up.
This grants them more max hp and increases their stats overall. They also heal to full health, this can also make the difference in heated combat situations.
When they reach the maximum level of 10 they gain one of (currently) five different talents. They greatly boost their capabilities and you should make sure to keep them alive.
Damage Talent This skill doubles the damage a survivor deals in melee and ranged combat. With this even the toughes zombies are no problem.
Healer Talent This gives your survivor the ability to heal himself and the others around him by a small amount. This could make the difference between life and death.
Looter Talent A Survivor with this skill collects double the scrap and parts he normally would. This will give your resources a huge boost.
Ammo Talent With this your survivor keeps giving out ammunition to himself and others.
Mine Talent This skill lets your survivor places mines randomly. They will explode when a zombie steps on it or after a short amount of time.
We also added 2 new special abilities that help with leveling your characters. Find them by opening crates.
Difficulty System
But this is not all. We have also implemented a new difficulty system. You start the game only with "Easy" unlocked. You will unlock higher difficulties by increasing your player level while playing.
These difficulties influence the strength and spawnrate of zombies. But they will also increase the loot you find. So playing on these higher difficulties is much more rewarding.
But keep in mind you probably need to upgrade your base first before tackling these new difficulties.
Improved combat animations
The survivor now will face where they are going. In addition they will now actually aim their weapons in the direction of the enemy and guns have also recoils.
Improved looting
A few patches ago we added searchable containers (like cars) for the player to loot. Now your survivors will help you loot them.
And depending on your difficulty settings more containers will contain loot.
Changed camera controls
Important for everyone who already played the game. The camera mouse control is now by right click (instead of left click). We did this to avoid using usables by accident when moving the camera.
Many small fixes and changes
Some of them are:
• Improved randomization logic. We now make sure rare loot spawns and events will reguraly show up.
• Crate screen only shows up if you can open a crate (thanks to VeTaL)
• Display ability cost in red when you do not have enough tokens to use them.
• Fixed survivors blocking each other from picking up the same loot.
• Added more types of truck convois.
• Rebalanced upgrade costs.
• Fixed tactic menu not displaying correctly sometimes.
• We hope you all enjoy the new patch. If so, we'd appreciate any review!
In any case, we are very interested in your feedback to help us make the game better. We are looking forward to it!
- Your Deadly Days Team
Files
pixelsplit-games-deadly-days-itch-io-windows-master-21.zip
63 MB
Jan 19, 2018
pixelsplit-games-deadly-days-itch-io-mac-master-17.zip
86 MB
Jan 19, 2018
pixelsplit-games-deadly-days-itch-io-linux-master-19.zip
88 MB
Jan 19, 2018
Get Deadly Days: The Final Shelter